As a site dedicated to financial education, today we are going to list the most demanded skills and competences at international level and on global labor market. These skills are also among the highly paying skills everyone should learn now.
Here is the list of highly demanded and highly paying skills at international level: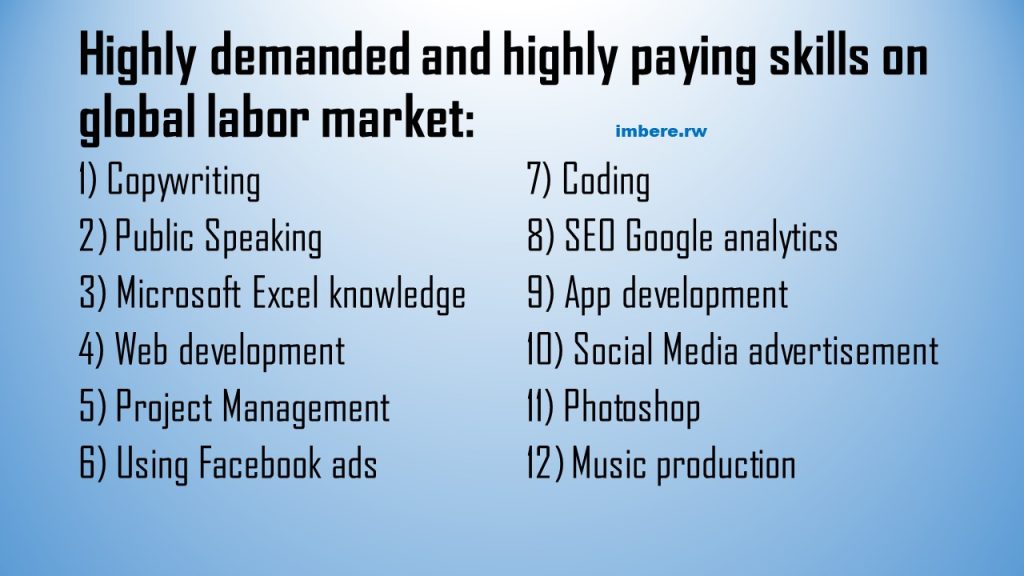 1) Copywriting
2) Public Speaking
3) Microsoft Excel knowledge
4) Web development
5) Project Management
6) Using Facebook ads
7) Coding
8) SEO Google analytics
9) App development
10) Social Media advertisement
11) Photoshop
12) Music production
The above is the list of highly demanded skills on global market. If you want to get new skills and new training opportunity, focus on these highly paying skills.
CLICK HERE FOR OTHER RELATED POSTS
CLICK HERE TO VISIT OUR ARTS AND HAND CRAFTS GALLERY
Imbere.rw
Tel: +250785115126
Email: imbere2020@gmail.com