Traditional Water Pot: Ikibindi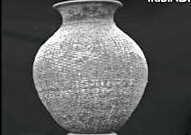 Traditional Water Pot
Water Pot is one of the traditional materials used by the Rwandans. Traditional Rwandan Water Pot known as Ikibindi in Kinyarwanda Language is a big pot made of clay and it is made in a way that allows it to contain liquid matters like water.
Traditional water pot was used to fetch water, to keep water and beer, mainly sorghum beer known as ikigage. It was also used in serving and sharing beer in different ceremonies like marriages.
Traditional water pots had different shapes, forms and designs according to the region and referring to the design used by the ceramists who made them. In Rwanda, there are different types and varieties of water pots referring to their sizes. There are also different types of beer pots like "inkonivuga", "inkurubindi", "injyabwami" also called "umuyumbu" and "imperezo". There were also pots used in different rituals and ceremonies like "intango", "akabindi k'isabiro", "imperezo", etc.
Water pots should also be covered by different designs and weaved with different items in order to ensure their durability and their attractiveness. This was called "Gusenga ikibindi" in Kinyarwanda language.
CLICK HERE TO VISIT OUR ARTS AND HAND CTAFT SHOP
CLICK HERE TO SEE OUR ARTS AND HAND CRAFT GALLERY
CLICK HERE TO SEE OTHER POST ON THIS WEBSITE
************************************************************************************
Ikibindi
Ikibindi (ibibindi mu bwinshi) ni kimwe mu bikoresho bya kera bikoreshwa n'Abanyarwanda. Ikibindi gikorwa mu ibumba, kikabumbwa mu buryo gikomera kandi kikabasha kubika ibisukika cyane cyane amazi.
Mu Rwanda rwa kera, ikibindi cyakoreshwaga mu kuvoma amazi, kubika amazi, gutara no kubika inzoga cyane cyane ikigage (Inzoga ikoze mu masaka). Ikibindi cyakoreshwaga kandi mu gutanga no gusangira inzoga mu birori bitandukanye, nk'ubukwe n'ibindi.
Ibibindi bigira ingano n'imiterere binyuranye bitewe n'agace byakorewemo cyangwa bitewe n'umubumbyi wabibumbye. Mu Rwanda hari amoko menshi y'ibibindi yakoreshwaga ibintu bitandukanye akenshi bitewe n'ingano yabyo. Hari amoko menshi y'ibibindi by'inzoga nk'inkonivuga, inkurubindi, injyabwami cyangwa umuyumbu, n'imperezo. Hari n'ibibindi byakoreshwaga mu mihango itandukanye nk'intango, akabindi k'isabiro, imperezo n'ibindi.
Ibibindi kandi bishobora gushyirwaho imitako inyuranye cyangwa bikaboherwaho ibyatsi byabugenewe kugira ngo birusheho kuramba cyangwa kugaragara neza. Ibi nibyo bitaga "gusenga ikibindi".  Icyo gihe bakita "ikibindi gisenze".
CLICK HERE TO VISIT OUR ARTS AND HAND CTAFT SHOP
CLICK HERE TO SEE OUR ARTS AND HAND CRAFT GALLERY