Traditional Rwandan grass basket: Agaseke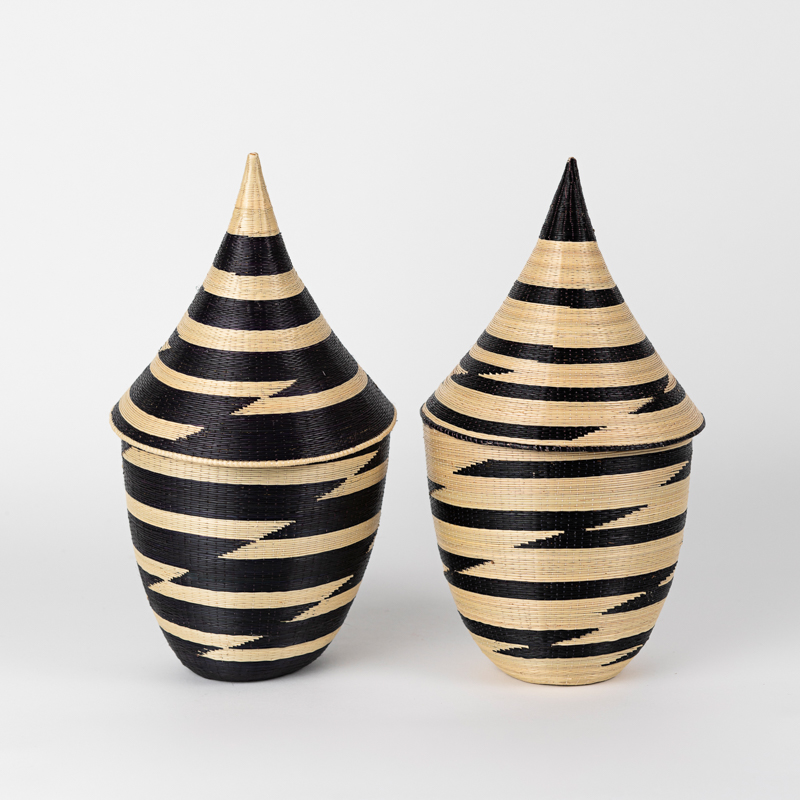 Traditional Rwandan grass basket (English)
Also called peace basket, or simply basket or Agaseke in Kinyarwanda, grass basket is one of the traditionally used materials and tools in Rwanda.
Baskets were woven in different form of grasses. In current times basket are woven using some modern wires. Baskets are made in different shapes and are given different designs referring to their purposes and uses. For example, a basket used as ornament in ceremonies has different sizes as that used to keep some home materials and items.
In Rwanda, woven baskets are used in different ceremonies as ornaments. They are also used to keep valuable goods and items, including crops.
In traditional Rwandan society, grass baskets were used to carry gifts and other valuable items that were sent and given to a friend or a relative.
In traditional Rwanda, woven basket was considered as a symbol of peace, love and prosperity. It was also considered as a symbol of virginity.
It was also considered as a keeper of secrets as there was a saying that something that is hidden is considered as a closed basket (Agaseke karapfundikiye) which literary meant, the "secret was not yet disclosed".
CLICK HERE TO BUY SOME RWANDAN TRADITIONAL MATERIALS, ARTS AND CRAFT OBJECTS
CLICK HERE TO VISIT OUR ARTS AND CRAFT GALLERY
****************************************************
Agaseke (Ikinyarwanda)
Bamwe bakita agaseke k'amahoro cyangwa igiseke (wavuga uduseke cyangwa ibiseke mu bwinshi). Agaseke ni kimwe mu bikoresho bikoreshwa n'Abanyarwanda kuva kera.
Uduseke tubohwa mu byatsi binyuranye (kera byaboheshwaga ishinge n'ibindi byatsi) Mu bihe bya vuba, ibiseke bishobora no kubohwa hakoreshejwe ubudodo bwabugenewe. Uduseke tubohwa mu ngano zitandukanye tugahabwa n'imiterere itandukanye bitewe n'icyo tuzakoreshwa.  Urugero, agaseke gakoreshwa nk'umutako mu mihango cyangwa mu birori, gatandukanye mu ngano no mu miterere n'agaseke gakoreshwa mu kubika bimwe mu bikoresho byo mu rugo.
Mu Rwanda, agaseke gakoreshwa nk'umutako mu birori n'indi mihango inyuranye. Gakoreshwa kandi mu kubika ibikoresho by'agaciro, ibikoresho byo mu rugo harimo n'ibihingwa cyangwa imbuto z'imyaka inyuranye (amasaka, ibishyimbo, uburo,…).
Mu Rwanda rwo hambere, agaseke kakoreshwaga mu gutwara impano n'ibindi bintu by'agaciro umuntu yageneraga cyangwa yohererezaga undi.
Mu Rwanda rwo hambere, agasake kafatwaga nk'ikimenyetso cy'amahoro, urukundo n'uburumbuke. Kafatwaga kandi nk'ikimenyetso cy'ubusugi.
Agaseke kandi kafatwaga nk'ikimeyetso cyo kubika ibanga ku buryo iya bavugaga ko "agaseke gapfundikiye" bashakakaga kuvuga ko ibanga ritaramenwa.
CLICK HERE TO BUY SOME RWANDAN TRADITIONAL MATERIALS, ARTS AND CRAFT OBJECTS