Entrepreneurship training: Panel discussion on How to sustain a Business

Are you an entrepreneur or an aspiring entrepreneur? Don't miss this regional entrepreneurship program on how to build and sustain a business.
The US Embassy in Kigali informs all interested entrepreneurs to apply and participate in the regional entrepreneurship program on "how to build and sustain a business?".
This program is jointly organized by two American Centers: Kigali and Yaoundé. This virtual program is scheduled on August 31, 2022.
Entrepreneurs needs to sharpen their skills and knowledge in order to run and sustain their businesses. They also have to adapt themselves to the changing and evolving world of business.
An entrepreneur must always show the ability and commitment to establish, administer and run a startup venture along with risks related to it in order to make profits. The best example of entrepreneurship is the starting of a new business. The entrepreneurs are often known as a source of new ideas or innovations, and bring new ideas in the market by replacing old with a new invention.
Entrepreneurship the creation of new business to solve the problems of any community. A business can be a small or home business or multinational company.
Any person who has the will and determination to start a new company and deals with all the risks that go with it is an Entrepreneur.
In this regard, entrepreneurs are encouraged to participate in different programs aiming at improving and sharpening theirs entrepreneurship skills.
The Panel discussion: "How to sustain a Business?"
Program Venue and Time: Zoom/virtual room, August 31, 2022 from 14:00 – 16:00 (Kigali Time).
Don't miss this opportunity!
HOW TO APPLY AND REGISTER?
Please use this link to register: http://ow.ly/G9Aa50KkBsr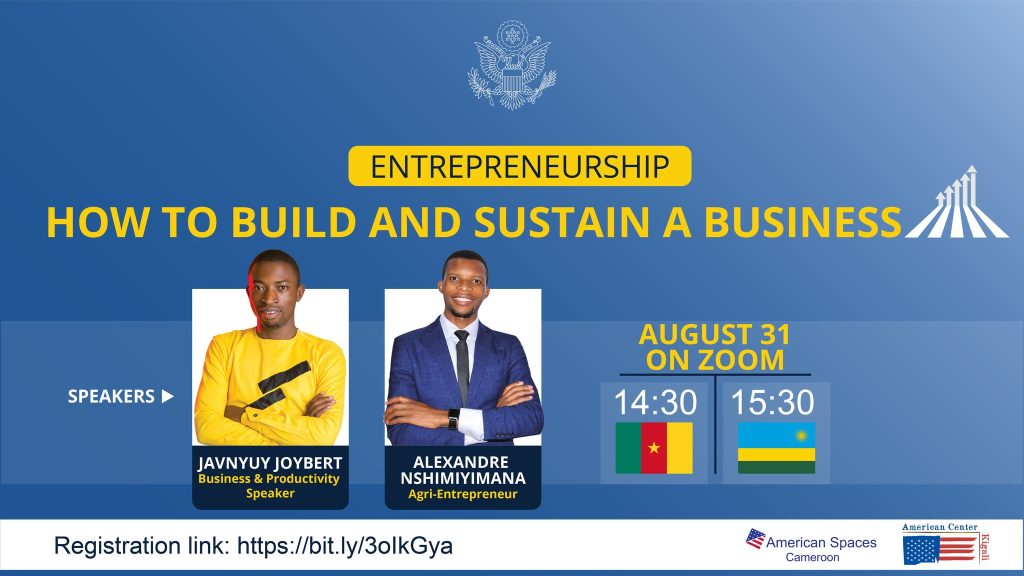 Urubuga imbere.rw twiyemeje kuba abajyanama n'abarimu mu bukungu n'iterambere.
SERIVISE DUTANGA:
//// Financial Education //// Research and Consultancy //// Advertisement //// Translation and Proofreading //// Drafting of Policies, Strategic Plans, Business Plans and other Papers //// Motivational Speaking //// Web design
Duhamagare cyangwa utwandikire
Telephone: +250785115126, Email: imbere2020@gmail.com
Wemerewe kandi gutera inkunga ubwanditsi bwa imbere.rw kugira ngo dukomeze kubagezaho ubumenyi bubafasha kwiteza imbere.